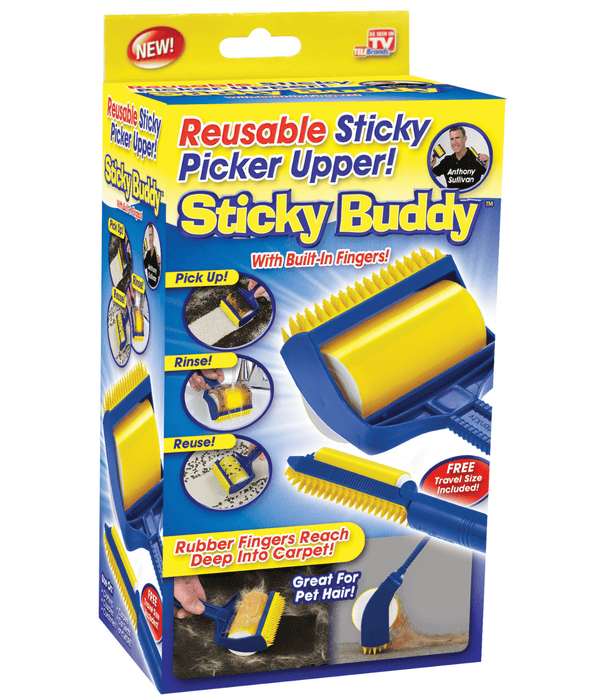 Sticky Buddy Reusable Lint Roller
Original price
$3.49
-
Original price
$3.49
Adhesive roller refills are expensive. And they leave a sticky residue on surfaces. You need Sticky Buddy, the sticky roller that has the power of glue without the goo. Effortlessly pick up cat hair, dog hair, crumbs, kitty litter, bird seed, lint, and so much more. Then when you're finished, simply rinse it, dry it, and it's sticky all over again. Sticky Buddy is a must-have for quick cleanups. Easily pick up pet hair, dust, and lint from upholstery and pillows. Sticky Buddy is safe on all types of fabrics, including silk and suede. And it doesn't leave behind a sticky residue. It has little rubber fingers that reach deep into your carpet. Use short strokes to loosen and gather the hair, then flip it over and roll away the mess. And when your Sticky Buddy is dirty, just give it a rinse, dry it off, and it's sticky again. Sticky Buddy includes a protective cover to keep your sticky roller clean when not in use.
Has the power of glue without the goo
Handheld adhesive roller
Reusable and washable
Rubber teeth loosen trapped hair in carpets
Great for quick cleanups
Safe on all fabrics, even silk & suede
A must-have for pet guardians
Protective cover keeps Sticky Buddy clean
Includes 1 Sticky Buddy adhesive roller & bonus travel roller
Fast Delivery
Same day delivery in Beirut and up to 2 days outside Beirut.
In store pickup
You can place an order and pick it up from our dispatch center in Achrafieh.
Pay in Cash
You can pay in cash only LBP or USD.