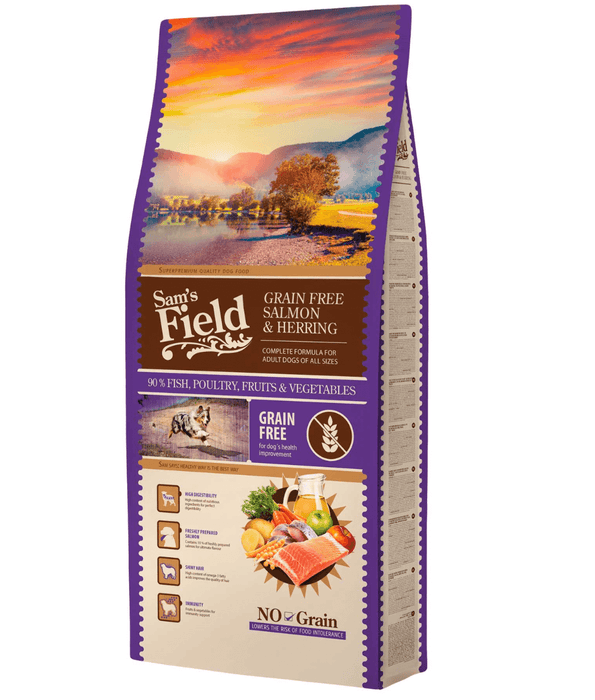 Sam's Field Grain Free Adult Salmon & Herring 13kg
Original price
$78.79
-
Original price
$78.79
Sam's Field Grain-Free Adult Salmon & Herring - A natural dog food made from salmon, herring, and potato, specially crafted for dogs with grain allergies or hypersensitivity.
Grain & wheat gluten-free
Contains 90% fish, poultry, fruit, and vegetables, promoting excellent digestion and efficient nutrient absorption.
Sam's Field SUPERPREMIUM formulas consist of high-quality ingredients, ensuring your dog's overall health.
Sam's Field formulas are natural and tailored to meet dogs' natural nutritional needs, eliminating the risk of food intolerance or adverse reactions to grains.
Thanks to its high meat content, this food offers outstanding digestibility.
A balanced ratio of omega-3 and omega-6 fatty acids supports a healthy skin and coat.
Prebiotics like mannan-oligosaccharides and fructo-oligosaccharides, combined with vegetables and fruit, foster good digestion and a healthy intestinal flora.
Additionally, prebiotics, in conjunction with fruits and vegetables, boost your dog's immunity.
Rich in meat: With lots of meat for a delicious taste.
High digestibility: Fresh salmon for excellent digestibility
Resistance: Fruit & vegetables for improved resistance.
Shiny coat: Balanced omega-3 and omega-6 for healthy skin and coat.
Fast Delivery
Same day delivery in Beirut and up to 2 days outside Beirut.
In store pickup
You can place an order and pick it up from our dispatch center in Achrafieh.
Pay in Cash
You can pay in cash only LBP or USD.