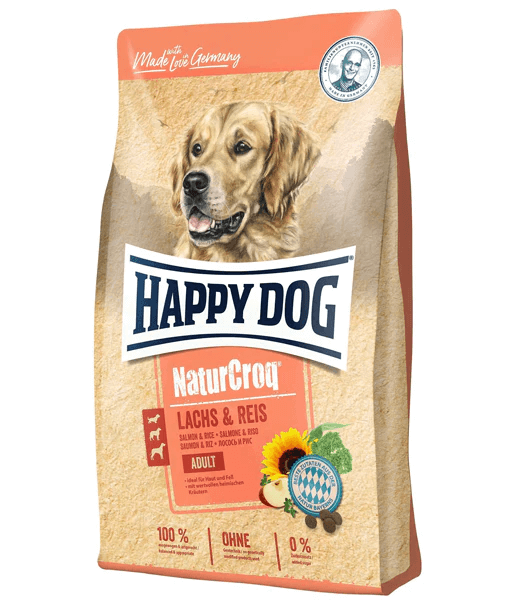 Happy Dog - Naturcroq Salmon & Rice 11kg
Original price
$36.99
-
Original price
$36.99
Does your dog always has problems with skin and coat? Then Happy Dog NaturCroq Salmon & Rice, the balanced and digestible complete food with the best ingredients from nature in Bavaria can support him. The crispy croquettes contain high-quality ingredients such as nutritious salmon, very well-tolerated rice and healthy whole-grain cereals from the region.

Salmon is rich in essential omega-3 and omega-6 fatty acids, which ensure intact skin and a shiny coat. Regional whole grain products are important sources of fibre. They support the regulation of intestinal activity, satiate, promote digestion and can make a positive contribution to intestinal health. They also provide many B vitamins, minerals such as magnesium, iron, selenium and zinc and are full of complex carbohydrates.



The balanced, tasty dog ​​food is ideal for adult, normally active dogs of all breeds that tend to have sensitivities with their skin and coat.

Fast Delivery
Same day delivery in Beirut and up to 2 days outside Beirut.
In store pickup
You can place an order and pick it up from our dispatch center in Achrafieh.
Pay in Cash
You can pay in cash only LBP or USD.