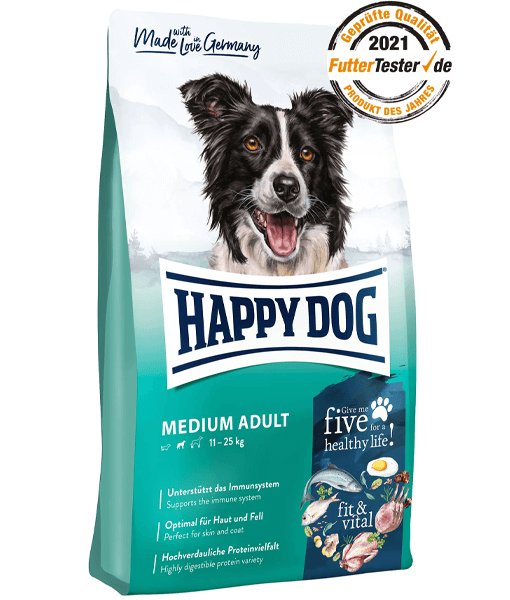 Happy Dog - fit & vital Medium Adult Chicken 12 kg
Original price
$46.99
-
Original price
$46.99
Balanced, digestible wholefood for medium-sized normally active dogs

Do you consider that a balanced and natural diet for your dog is one of the most important ingredients? Then you will certainly love Happy Dog fit & vital. Five different proteins – salmon, sea fisch, egg, lamb and poultry – ensure a healthy range of proteins, just as in nature. Salmon is rich in essential in Omega-3 and Omega-6 fatty acids and naturally good for skin and coat. The easily digested sea fisch provides the body with many vitamins, while the egg supplies valuable protein and the lamb delivers vital minerals. The formulation is perfectly rounded off by poultry, which is especially nutritious and provides essential trace elements.

Happy Dog fit & vital Medium Adult is tailored to the requirements of adult, mid-sized dogs, and is ideal for normally active dogs from 11 to 25 kg. The tasty, balanced all-in-one food is based on the unique Happy Dog Natural Life Concept® and is enriched with valuable New Zealand mussels for greater mobility. Important Omega-3 and Omega-6 fatty acids ensure healthy skin and a shiny coat. This very easily digestible, gluten-free formulation supports the immune system with vitamin C and specially selected herbs, giving your dog a healthier, happier life.

Fast Delivery
Same day delivery in Beirut and up to 2 days outside Beirut.
In store pickup
You can place an order and pick it up from our dispatch center in Achrafieh.
Pay in Cash
You can pay in cash only LBP or USD.