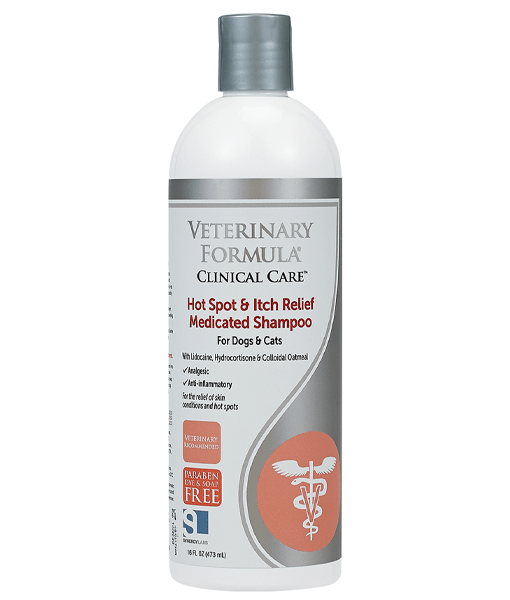 Synergylabs Veterinary Formula Hot Spot & Itch Relief Medicated Shampoo
Original price
$14.99
-
Original price
$14.99
Veterinary Formula Clinical Care Hot Spot and Itch Relief Shampoo provide dogs and cats with medicated analgesic and anti-inflammatory relief of itchy skin and hot spots commonly caused by allergies, insect bites, dirty coats & more.
Colloidal Oatmeal: Mild, natural moisturizer to treat or prevent dry, itchy, scaly, rough skin and minor skin irritations. Softens and moisturizes skin while decreasing itching and flaking.
Hydrocortisone: Anti-inflammatory agent to help accelerate pets' natural healing process while preventing the release of substances in the body that cause inflammation. Provides relief from pain and itching as well as reduces itching, redness, and swelling.
Lidocaine: A highly effective anesthetic, provides immediate topical relief from pain associated with minor skin irritations and rashes due to flea bites, poison ivy, hot spots, allergies, and more. Mitigates pain associated with the irritated area.
Paraben-Free: Parabens have been found to mimic estrogen in the body- and when levels are disrupted, a link has developed with breast cancer & reproductive issues. All our formulas are Paraben-Free, to promote the safety, well-being and health of your pet.
pH Balanced: Pet's sensitive skin requires pH balanced treatment. Human shampoos are formulated at a lower pH (more acidic) -and should not be used on your pet.
Soap-Free: Only the gentlest, naturally derived cleansers are used in our formulas. Contains no harsh soaps or damaging detergents.
Spot–on-Safe: Will not remove topical spot-on flea & tick treatments.
Fast Delivery
Same day delivery in Beirut and up to 2 days outside Beirut.
In store pickup
You can place an order and pick it up from our dispatch center in Achrafieh.
Pay in Cash
You can pay in cash only LBP or USD.