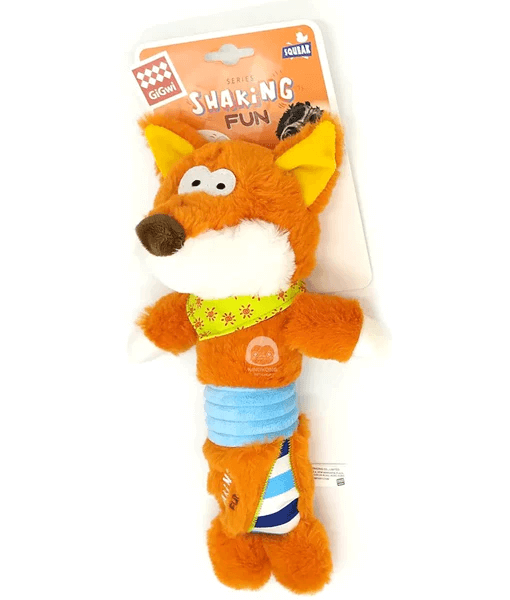 GiGwi - Plush Shaking Fun Dog Toy (Fox)
Original price
$7.19
-
Original price
$7.19
GiGwi Plush Shaking Fun Fox are ideal to fetch, encourages dogs to bite and shake the more excitedly. These behaviours will help dogs relieve anxiety and reduce boredom. The Shaking fox has super soft fabric that will protect your dog's teeth and gums.
This dog toy is the best cuddle buddy for your pet dog apart from you. This plush toy appeals to your dog's natural playtime instincts during indoor play. It is made from chewably-healthy material so that your pet dog can enjoy playing with them. It comes with an inbuilt squeaker so that your pet dog can go nuts over the sound and play with them all day long. Plush toys for dogs are ideal in a way that they can chew or play fetch with. Plush toys help retaining your pet's scent so that they can find them and keep them close.
Suitable for dogs of all lifestages & breeds
Soft and cuddly fox toy with inbuilt squeaker
Made from high-quality, non-toxic plush material
Safe on teeth and gums to withstand even the toughest chewers
Can be used indoors to help encourage daily exercise and mental stimulation in your dog
Helps to keep your pet dog entertained
Always keep their playtime supervised
Consider adding new toys to their bucket once they are torn or broken
Fast Delivery
Same day delivery in Beirut and up to 2 days outside Beirut.
In store pickup
You can place an order and pick it up from our dispatch center in Achrafieh.
Pay in Cash
You can pay in cash only LBP or USD.